That's exactly what the Hungarian Export Promotion Agency and the Express Innovation Agency wanted—to livestream their Toronto conference so that their other offices and embassies around the world could watch the event.
Bonus caveat—the videographer's kit needed to fit in a small, carry-on suitcase for their international flight…
Challenges
Ensuring a glitch-free, broadcast-quality experience for the online audience—regardless of where they're joining from
Making it easy for the audience to join the event via a single click
Setting up recording equipment without obstructing the view of speakers, audience or journalists
Fitting the video production kit into a small, carry-on suitcase for the videographer's international flight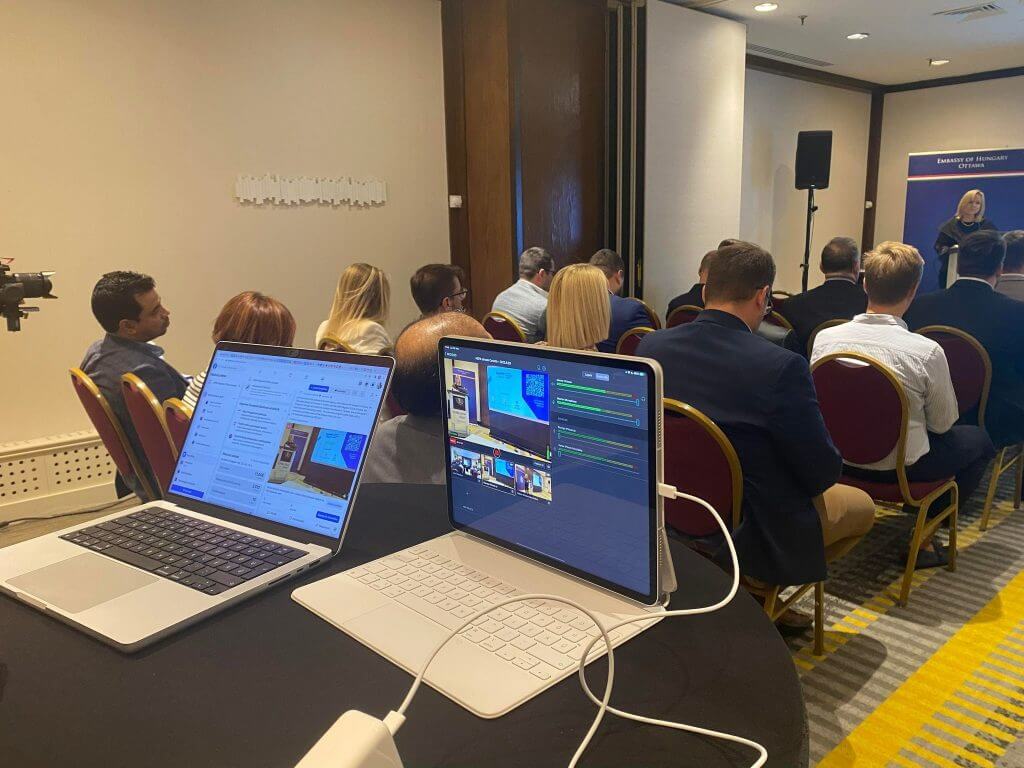 The entire production was orchestrated from the back of the room (including audio mixing!)
What we went down 
A hybrid event was planned out meticulously to support the goals of the organizers
The live event was streamed in HD quality, with a multi-angle setup with four cameras—bringing the experience as close to real life as possible
Worldwide audiences enjoyed a broadcast-quality experience via a single click—landing them on the organizer's official Facebook page and without having to download or log onto any websites
Photos, videos, captions, logos, and sponsorship opportunities were seamlessly integrated during the stream—a visually engaging experience vs. having to watch a single-camera angle for hours
Studio-quality sound ensured an almost-being-there experience for the online audience—people forgive shaky video but can't tolerate bad audio
Pitch competitions, presentations and the networking event were all streamed in the highest quality—imagine Q&A sessions where the person from the audience asking the question isn't just a faint voice but is shown on camera (impossible without a multi-angle setup)
A recording of the event was made available—for those who missed it and for content repurposing
Using only smartphones, stands (that fit in a small case) and the RECnGO app.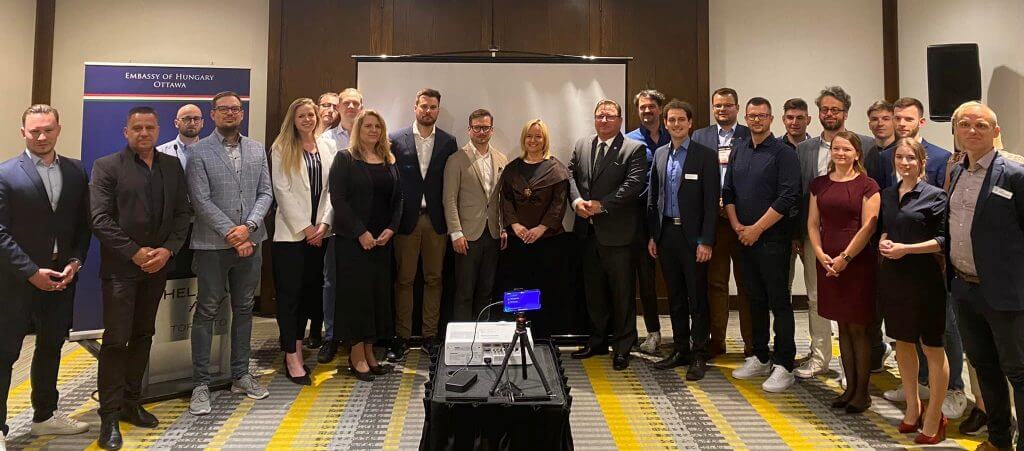 No cables and no crew got in the way of guests, journalists, and speakers
The bottom line
Manpower requirement: 1 person vs a team of six
Equipment used: 4 smart devices, 3 stands, 4 power banks, one small backpack vs a broadcasting van, 4 cameras, 4 stands, lighting, microphones, pop-up tables, carry cases
Cabling requirements: 4 chargers vs a 100m cable reel
Environmental impact: 94% less CO2 emission* vs a standard broadcasting setup
For broadcast-quality live streams and recordings download the app now and make your next event available to a global audience.
We'd like to express heartfelt thanks to our partners: Express Innovation Agency, Embassy of Hungary to Canada (Ottawa), Consulate General of Hungary (Toronto), HEPA Regional Office (Canada).